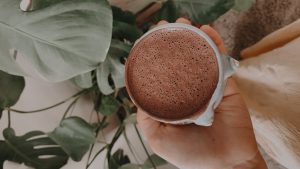 How pure chocolate enchants me
Cacao enhanced my life with colourful possibilities, enriched my soul with long forgotten wisdom and fuelled my heart with a fire of love burning bright and warm!
I believe it is crucial to connect with your heart, to open up to your inner voice & the knowledge your body holds for you. 
Yet so often we loose this connection, don't know how or what to listen to.
This is why I am sharing my path with all of you. 
To let you know that an open heart is not just a lovey-dovey term used by the "light and love only" spiritual community.
It is often times hard work and requires courage. And by courage I don't mean the Braveheart warrior kind of courage! I mean being vulnerable. 
Shedding tears in front of others, holding yourself on lonely nights, feeling the pain, the restrictions, the blocks, the fears. 
This, my friend, is courage. 
And no: it will not all just go away when you participate in a Cacao ceremony or drink a cup every day. BUT ceremonial cacao will open the door and shine a light on the path to your heart.
The spirit of cacao doesn't teach you it's ways or force upon you any perceptions.
Cacao will guide you to your connection with yourself but you have to take the steps yourself on your path.
Sometimes Mama Cacao brings us what we want (joy, excitement, trust) & when we are ready she cracks our hearts open, and allows long buried emotions to come up.
Rest assured she will bring you what you need and will present your lesson with love and creativity to support you through the darkest nights and greyest days.
This doesn't mean that you have to live in joy and love all the time!
Especially if there are parts of you that don't feel good, don't feel worthy of love or don't believe it's possible.
Authenticity is embracing all these aspects and welcoming them to the surface with curiosity and compassion. 
Cacao is not a painkiller, it is heart medicine
A magic potion that gets activated when you stir in your honest intention, surrender and integrity.
This world needs HeARTists and brave (vulnerable) hearts! 
It's my honour to help you step on your path!