THE MAGIC OF CACAO
Facilitation is not only an art – it is a craft!

In my Cacao Facilitator Training "The Magic Of Cacao" you will receive the facts for the brain, the teachings of the heart and the guidelines for the body – yours and your future participants, no matter if you offer cacao in a business setting, creative endeavour or serve the plant ally in sacred ceremony.
The Magic of Cacao gets activated when you stir in your honest intention, surrender and integrity.
This world needs HeARTists and brave (vulnerable) hearts!
It's my honour to help you step on your path!
---
A Training designed for your individual needs!
Filled with practical exercises, in person guidance and self-paced study to integrate into your personal lifestyle The Magic of Cacao offers you knowledge about and wisdom from the cacao plant, a traditional and modern approach to working with the plant spirit of cacao and time to make your own experiences
My Cacao training is unique in approach and created since 2019, which gave me lots of time to add recent research, develope my own methods and design this course in a way that suits all. The most important part to me as a cacao practitioner and a teacher is that you can fill your head with information as quickly as you prefer yet have the possibility to be supported and mentored for a whole year while building community and connecting with fellow students.
You decide how fast you move through the content library and tasks, fitting the training into your personal life.
Originally the Course was designed for two moon cycles (approx. 2 months) to give each module (1.LIVE the Magic and 2.SHARE the Magic) a whole month to be completed. From a journey within the own heart realm, exploring the magic of cacao, integrating it into your life to sharing your gifts with others alongside practical advise and information about cacao and its effects. While this was satisfying the head (It got lots of knowledge, information and tools) – it didn´t allow enough time for many to actually start holding space and sharing cacao with others. My participants still get back to me about new questions that come up during their offerings and ask me to mentor them or hold space for their evolution as a space holder.
This is why I am so happy to present this unique course format that allows you to move through all the content and practices as quickly (or slowly) as you want while having long time access to my live group sessions and cacao practitioner community. You will not only have the chance to continue learning alongside me, gain insights in my evolution and workings with cacao since 2017, but also learn from others and exchange experiences with cacao magicians and sorceresses who are using cacao in different ways and inspire, support & motivate each other.
I have found the personal bond with my cacao students to be very fruitful and fulfilling, not only collaborations have been established but also friendships have grown.
You will also benefit from their learnings and teachings as I bring in Guest Speakers to the Course Calls in order to give you a wider perspective on what is possible with the heart medicine C A C A O!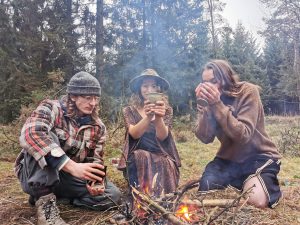 This Course includes one 454g block of Keith´s 100% pure ceremonial Cacao from Guatemala and with plenty more recommendations to fuel your year of Cacao. You will be encouraged to try different Cacao sources to notice the difference and find the source that resonates with your body, mind and heart!
As I use Keith´s Cacao exclusively, you will get one block of his deep medicine for free and have the option to become a Keith´s Cacao Practitioner after successfully completing my course if you wish. I will also happily help you to find other brands, wholesale options and ways to distribute Cacao. One of my former student even created her own Cacao Brand – you will know what is right for you and choose the most aligned way for you to work alongside Cacao and share her magic (if sharing is what you decide to do, as some also decide to deepen their practice with Cacao by themselves).
   LIVE THE MAGIC
Correct use of ceremonial cacao, its origin and science.
Conscious work with Intention, plant spirit and creation of your unique ritual practice.
Monthly zoom meetings for connection, practice and accountability.
Guided Meditations and Cacao Ceremonies
Room for cacao: how to create your own ritual practice
Intentions and listening with the heart 
New Moon + Full Moon Ceremonies
The Magic of the Cacao Plant
History and Myth, Cultural Appropriation
Cacao Dieta: connection with The Spirit of Cacao
Embodiment of heart medicine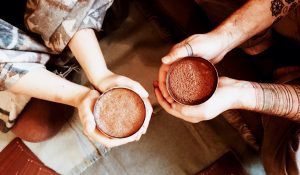 SHARE THE MAGIC
Holding space for yourself and others.
How to show up as your authentic self & trust the flow and your heart.
How to share cacao with integrity and knowledge.
Integrity and Authenticity
Origins of Cacao Ceremony
Sacred Space, Opening and Closing the Circle
Safe Space, Guidelines and Boundaries
Preparation + Practical Realisation
Cacao and Contraindications
Cacao Effects and physical, emotional, psychosomatic reasons
Participant-led Cacao Offerings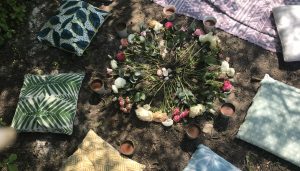 I offer exclusive Cacao Ceremonies for my cacao students only and am enjoying the ever expanding network of open hearted and authentic humans all over the world! I have students from Germany, the UK, Ireland, Iceland, Sweden, Denmark, Netherlands, Latvia, Liechtenstein, Switzerland, Austria, Spain and the USA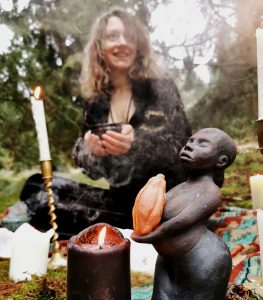 Are you ready to learn about cacao?
Are you willing to journey within?
Are you excited for the MAGIC to fill your life?
In my already 8 course rounds my students have experienced enhanced synchronicities in alignment with the course content, the teachings and their own lessons from cacao.
I appreciate Laura´s Training on so many levels! The way she created this piece of art as a course and her charisma resonate so much with me and has moved a lot. Laura, you truly are a gift to this world!

A genuine recommendation from the heart! I have graduated from Laura´s cacao training last year and so much has changed in my life since!
More feedback and testimonials:
Laura is just so authentic and lives for cacao. She puts her heart and soul into it and you can feel it every second. We meditated, embarked on a journey, exchanged fears, desires and visions in a confined space. This exchange (which initially overwhelmed me) gave me so much strength, courage and love. I surpassed myself, got to know wonderful people and the positive properties of cacao. I can no longer do without my cocoa and I am very grateful for having had this magical experience and I am still experiencing magical moments with cacao. Thank you dear Laura. I found the time together very magical and through your loving guidance I was able to get to know new sides of myself and strengthen the connection to myself and cacao. I have always felt well held, seen and understood. You are spot on and thank you for also creating the space that has given me the opportunity to lead ceremonies. This opened a new door for me and I now feel ready to offer cacao to others myself. Thank you for everything and your open & warm being!
<3
It was indeed a magical journey for me and you, Laura were the ideal guide for this journey. I have the impression that you are discovering this magic for yourself and your life and you live it authentically and can therefore pass it on. Rarely have I seen someone with so much sparkling creativity, depth, kindness and love. Your images, the world you created with your words and your presence were so alive that I could enter this realm myself and go on a journey of discovery. I can only mirror back to you that you are doing wonderfully and I am already looking forward to more magical journeys with you.