IN-PERSON CACAO CEREMONY | Sunday MAY 29th, 2022 | 3-6pm | Street Road, Glastonbury
The Backstreet Temple will open the doors to all who seek authentic expression, integrity and responsibility, mixed group, no previous experience needed.
Let yourself be enchanted by pure ceremonial cacao, an intentional setting, a guided journey into your heart and New Moon Wonders
 £ 33, limited spaces, book on time.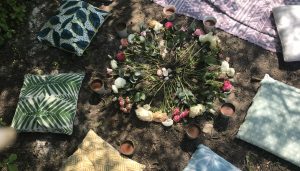 FREE for the Cacao Cauldron Membership!
BELTANE FULL MOON CACAO CEREMONY – JOURNEY INTO THE ENCHANTED WILD WOOD
Purchase the guided ceremony or join the CACAO CAULDRON for May to access the Recording of this special event and replenishing journey into the enchanted forest of your heart! You can repeat this ceremony anytime you feel overwhelmed, need assistance with a transformative process or want to embark on a magical journey into your subconscious.
The Lunar Eclipse of May 2022 features the Moon conjunct the South Node. This means it's a releasing eclipse: we are encouraged to let go of whatever is no longer serving us. Eclipses can also bring sudden changes and it can be challenging to face them but with trust, surrender and a flexible perspective you will soon see that it is all happening for you and not to you.
This cacao ceremony will work with the energy of release and transformation. To embrace the unexpected and surrender to life´s wondrous ways.
BELTANE VOLLMOND ONLINE KAKAOZEREMONIE – REISE IN DEN ZAUBERWALD
Du kannst die geführte Kakaozeremonie erwerben oder dem CACAO CAULDRON für May beitreten, um die Aufnahme der Zeremonie zu sehen. Du kannst diese Aufnahme zu jeder Zeit wiederholen, in welcher du dich überwältigt fühlst, Unterstützung bei einem transformativen Prozess benötigst oder eine magische Reise in dein Unterbewusstsein unternehmen möchtest.
Bei der Mondfinsternis im Mai 2022 steht der Mond in Konjunktion mit dem Südknoten. Dies bedeutet, dass es sich um eine befreiende Sonnenfinsternis handelt: Wir werden ermutigt, loszulassen, was uns nicht mehr dient. Finsternisse können auch plötzliche Veränderungen mit sich bringen und es kann eine Herausforderung sein, sich ihnen zu stellen. Mit Vertrauen, Hingabe und einer flexiblen Perspektive werden wir bald erkennen, dass alles für uns geschieht.
Diese Kakaozeremonie wird mit der Energie von Loslassen und Transformation arbeiten. Das Unerwartete annehmen und sich den wundersamen Wegen des Lebens hingeben.