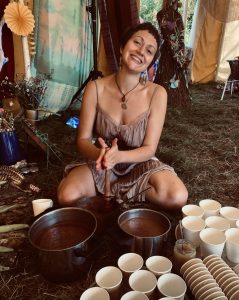 Cacao Facilitator Training THE MAGIC OF CACAO t
ruly is an in depth journey with the Theobroma Cacao Plant, its Spirit and to your own magic and weavings with ceremonial cacao!
21 Chapters with each 4-6 lessons
Following the archetypal journey of the tarot's major arcana with 3 overarching sections: Explore the Magic (of cacao), Live the Magic, Share the Magic.

Chapter 1-7: EXPLORE THE MAGIC
Learn, deepen your connection, experience and integrate ceremonial cacao and sacred practice in your day to day
THE JOURNEY WITHIN BEGINS:
The Fool: Off to new adventures! A Welcome, Introduction and the packing of your bundle to be equipped for your quest.
Video, Text and INTENTION CEREMONY
GROUND WORK:
The Magician: He gathers all elements and creates alchemy through structure. We find our own strength and gather our resources before exploring the teachings of Cacao.
History & Culture Cacao
Video Lesson and Book Research
Cultural Consciousness and personal responsibility
THE HIDDEN REALMS
The High Priestess: Diving into the subconscious waters, the intuition – soul search into our own inner worlds, dependencies and the core of why we want to use Cacao
Surprise Tasks, a test of your devotion and intentional journeying
Audio, text and practices
CLAIM YOUR MAGIC
The Empress: Opening to abundance – inviting and connecting to the Spirit of Cacao and letting her be the Guide
Doing your own Cacao Dieta and personal daily sacred practice
Audio, text and practices
CACAO PROCESSING AND SCIENCE
The Emperor: Structure, discipline, stay true to your values – This is the most intense head-based learning chapter which will give your mind all information it is possibly craving, so that your thirst for knowledge is satisfied and you can allow yourself to drop into your heart with the following chapter.
Science & Nutrition
Video and Text
CACAO AS RAINBOW MEDICINE
The Hierophant: Connection between spiritual and worldly life. Be the Bridge.
Unleash your creativity and funk up your inner work with text, audio information and reflection tasks for creative and inclusive ways to work with cacao with yourself and others
FROM HEAD TO HEART
The Lovers. Open your heart within and without!
Video lesson, text and reflection tasks to help you fully embody open hearted living.
INTEGRATION TIME
The Chariot: Maturity and wisdom come from courageaously engaging the difficuties and challenges of life
Text Lesson about Integration, Ritual and Guided Meditation Video
Chapter 8-15 LIVE THE MAGIC:
Time to share what you learned, engage with Cacao in your own way and go to the core of your intention, learn the origin of cacao ceremony, how to craft your own and dedicate yourself to holding space – for yourself and others of you choose so.
INTEGRITY AND AUTHENTICITY
Strength: You will find the Wild Wisdom that sings in the depth of your soul
Text Lessons, Tasks and full guided Intention Ceremony (Video)
HOW TO WALK THE TALK
The Hermit: Silence & Solitute. Time to meet yourself.
Text lessons, deepening inner work, tasks for aligned action and embodiment
CEREMONY VS. CIRCLE
The Wheel: Life Cycles and patterns: Birth, Life, Death & Rebirth. Initiation Rites, how to create containers and hold space.
Origin and development of "cacao ceremony" (Video Lesson), Holding Space (Video Lesson), text and further research, Sacred and Holy Space (Video Lesson)
CONNECTION TO SPIRIT
Justice: Clarity & Discernment, between Past and Future. In this Chapter we explore honouring the Spirit of Cacao and enter the realm of working with the elements in the medicine wheel, starting with Spirit in the Centre.
Text lessons, audio and tasks to connect with Spirit
ELEMENTAL WISDOM: AIR
The Hanged Man: Go deeper now, Change of Perspective, True freedom and independence are found through surrender to the new beginning.
Text lesson, audio and exploration tasks
ELEMENTAL WISDOM: WATER
Death: Shedding Skins, the new prepares to be birthed. Let the waters of life cleanse and renew you.
Text lesson and reflection tasks
ELEMENTAL WISDOM: FIRE
Temperance: Allow inner and outer, masculine and feminine to blend within you to give birth to your creative self. Unleash your passionate site.
Text lesson and reflection tasks
ELEMENTAL WISDOM: EARTH
The Devil: Great progress is possible with integration, channel the earthly life force, become aware of your magic.
Text lesson and reflection tasks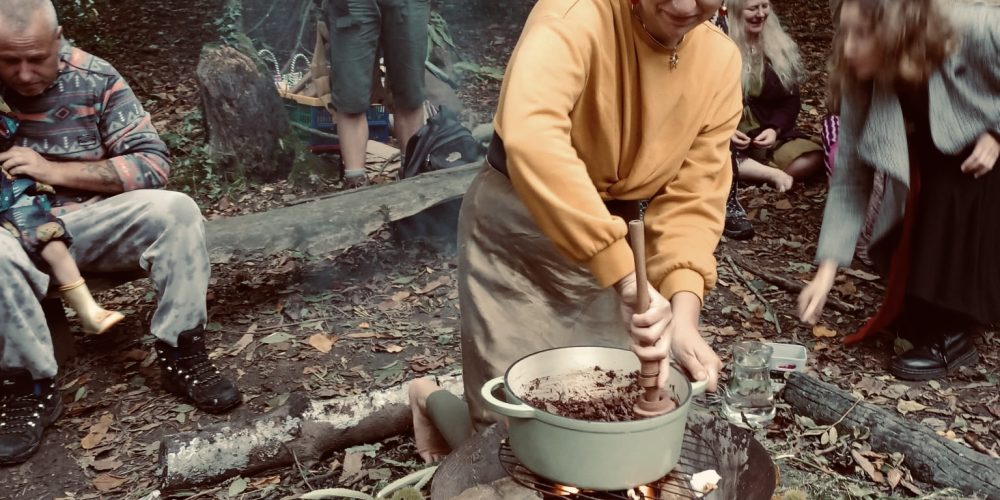 Chapter 16-21 SHARE THE MAGIC:
Now that you transformed your life with the Magic of Cacao and started experimenting with your authentic ways – DISCOVERING YOUR OWN MAGIC – it is time to learn about safe space holding and how you can utilise Cacaos Magic (and yours) to support others and, should you choose so, to start your own business venture or infuse your work with ceremonial Cacao
HOLDING SAFE SPACE
The Tower: Destruction may precede creation, sudden illumination, liberation and awakening, release of tension. Learn how to facilitate safe space, study contraindications and create your own guidelines.
Safe Space (Video Lesson), Cacao and Contraindicitions (Video Lesson), Text Lesson and assignment on Guidelines and Boundaries
LET YOUR PATH UNFOLD ITSELF
The Star: Inner and outer connected in perfect harmony, you are on the right path, intuition flows like a bright stream, hope, healing. You will know how to move forward with inspired action and aligned intention.
Text Lessons on the Medicine Wheel, honouring cycles and different uses of ceremonial Cacao

HUMILITY – THE FOUNDATION OF SERVICE
The Moon: Fear is a powerful teacher and ally, face it and walk through the gates of fear to arrive at the realm of the Goddess, and be blessed with inner vision, dive into the feminine mysteries.
Text lessons on humble gratitude, honour and radical self honesty
SHINE YOUR LIGHT AND SHARE CACAO
The Sun: Free self expression, shine your light, joy and let creation flow from your radiant being, contentment, success
Text Lessons, suggestions and practical assignments to create your own ceremony and integrate it
FACILITATION FOUNDATIONS
Judgment/Rebirth: You have entered the darkness and embraced the inner work, it is time to emerge reborn, new directions, transformation.
A motivation letter to you, a recorded cacao Masterclass for Facilitators with specific details on common physical effects in ceremony and questions from participants, how to dose during pregnancy and beyond and an audio lesson on honouring your ancestral line.
FALL IN LOVE WITH REALITY
The World: Completion of a cycle, Fulfilment, Success, Abundance. Let´s realise your Cacao Offering!
Practical guidelines and cheat sheet for your own offerings and realisation of dream events, personal reflections on Cacao as a Business and words of appreciation
Email Kakaozauber@gmail.com or contact Laura via phone +44 (0) 7494069328
ADDITIONAL OPTION:
Become a certified Keith´s Cacao Practitioner upon completion of this Course if you – like me haven't found a better source of ceremonial Cacao to work with and bring on your magic with!
What is included additionally to the Self-Paced Course
-Individual and group mentoring
-A guided Cacao Dieta with live and recorded ceremonies 
-Integration and accountability 
-Self-paced study 
An on going community
This course isn't just a one year program, It is a continuously growing & evolving community. Often after finishing the training students maintain relationships with each other & Laura, interacting with one another in ceremonies & one-on-one support. 
Journey along this inner quest, to authentically show up in your own 
practice and mundane life, whilst simultaneously learning how to show 
up in connection & knowledge in a confident & professional manner. 
INVESTMENT: 

£660, includes one 454g block of Keith´s 100% pure ceremonial Cacao from Guatemala.
As I use Keith´s Cacao exclusively, you will get one block of his deep medicine for free and have the option to become a Keith´s Cacao Practitioner after successfully completing my course if you wish. I will also happily help you to find other brands, wholesale options and ways to distribute Cacao. One of my former student even created her own Cacao Brand – you will know what is right for you and choose the most aligned way for you to work alongside Cacao and share her magic (if sharing is what you decide to do, as some also decide to deepen their practice with Cacao by themselves).
<3
Payment made in full via paypal to kakaozauber@gmail.com
or via this stripe payment link: https://buy.stripe.com/fZe00w0vcbUg16o4hA
3-6 installment payments are also accepted, if you prefer to pay monthly. Simply let me know which option works best for you!
After your initial payment has been received, I will send you the block of Cacao, for this I ask you to please write me your mailing address and you are good to go!
Wanna get to know me, and what drives me to do this work?
And what I am up to in my personal life as a new mom, a cacao ceremonialist and inner work devotee?
Find me on Substack:
https://lauradurban.substack.com?utm_source=navbar&utm_medium=web&r=1v148l
There you can engage with me, read my free articles or subscribe to my weekly newsletter (in which I share my musings, insights and learnings).